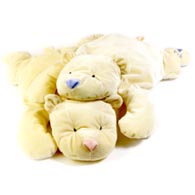 Thank you for visiting our homepage.
We are high quality stuffed plush toys manufacturer from Korea with factory in China.
Please browse through and we hope that you can have answers for your needs.

All contents ¨Ï copyright 2002 Sesil International Corp. / Sesil Co., Ltd.

All rights reserved
Let's talk about the brief history of SESIL.

We'd like to share the information about our factory.

Here are some numbers that we can tell.